AA battery~ Cute icon! I love it. The Sudoku thing is cute, even though i have never played Sudoku.
Celeste Nayamashii~ Wow. Both of those are very beautifull. I love the colors you used on both. Nicely done!
Little Washu~ LOL@ that expression. That is a great and supreme expression.
Desu ne?~ aww! It's so cute!
ehxhfdl14~ that is a gorgeous orchid. I love orchids. They're my second favorite right after cherry blossoms.
Well, I've been REEEEEAAAALLY busy with school and so i haven't been able to draw much. I still plan to draw ed as a slice of pie (because pie is awesome) but i just haven't gotten to it yet. However i did do a christmas-y fan art of Sessoumaru for all the different sites i go to and my friends. Hope you all enjoy!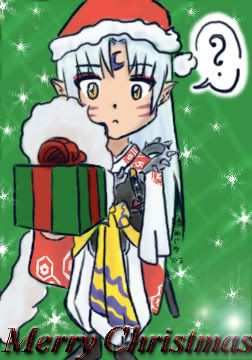 Next on list- Edo pie!
Speaking of pie, I am eating my first piece of pie since thanksgiving and am happy at last. I love you pie... *munches pie*