Hi Hi! Just gonna say. I cant draw FMA characters at all. T-T; However I can take pics of manga and color it and such.....Does that count as fanart? Anywho here ya go!
This one is a piece from chapter 47 I think.
I know its not FMA but I made it about 2 years ago and I still like looking at it. XD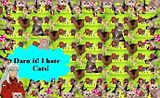 click it!