I'll be back to edit this post as soon as I get home with a tentative schedule for the Halloween Festival. A name still has to be picked, so I'll post all the suggestions, and everyone can vote!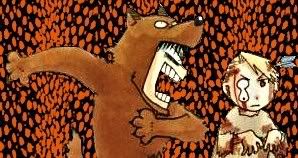 The festival will run from Sunday, October 28th through Wednesday, October 31st. Fanart and fanfiction are accepted for every theme.
Sunday, October 28th: Past and unfinished fanart and fanfiction.
Monday, October 29th: The theme will be honoring/remembering the dead.
Tuesday, October 30th: Horror Stories with two themes to choose from--Creatures of the Night or Did You Hear/See That.
Wednesday, October 31st: Costume Contest and Trick or Treat. What would our two favorite military dogs wear on Halloween? Deadline will be midnight PDT
Time Zone Converter
for those of you like me that need it. Voting will open after I get a chance to post on the 1st and end on Monday, November 5th, midnight PDT.
**Originally the Festival was going to last three days, but I think four works out better. If there are any changes I will let you guys knows as soon as possible, but I think this is it. I'm looking forward to seeing all the contributions!
As for the name of the festival. There were 6 different suggestions:
The RoyAi Trick or Treat Festival
The Bewitching RoyAi Festival
RoyAi's Haunting Halloween
Sinfully Scary, A RoyAi Halloween
RoyAi-ween
4 Days of Spooky RoyAi
Are there any more suggestions before I open it up for voting tomorrow night?
@Elemental/Alchemist
Hello, pleasure to meet you. I'm still fairly new here.