Noble Farmer
2006 (serialized in Unpoko), 2009-07 (serialized in Wings)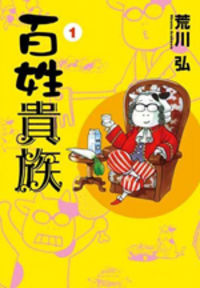 Genres:
comedy, slice of life
Also, if anyone know any info on 「百姓貴族(仮)」"
Hyakushou Kizoku
" ("Noble Farmer", or something like that in English translation, I think): That's the tentative title for Arakawa-sensei's sort of manga essay kind of thingy (I think) on Japanese magazine "Unpoco(?)" vol. 8, coming out in Dec. 28 in Japan.... If anyone hear anything about it, please post!! Thanks!!
----
ETA (replying to the post below ^^): Actually, 百姓 means "farmer" in Japanese. C:
(Though I understand that reading literally in chinese characters, the word means "100 last names = commoner") ^^


.

|


.

|


.

|/