Have you ever wondered what world history would be like if the countries could walk and talk? Well now you can see (loosely). Hetalia: Axis Powers tells the story of Italy, a man obsessed with pasta, pizza, pretty girls and whine. He's weak, he's needy, and oh so adorable.
All the countries are portrayed as stereotypical versions of the people who reside in them. Though, some countries have yet to appear(if at all, i.e. Mexico)
QUOTE
Hetalia: Axis Powers (ヘタリア Axis Powers ?) is a manga and anime series by Hidekaz Himaruya placed in a World War-era setting in which the countries are represented by anthropomorphic characters. Hetalia (ヘタリア ?) is a made-up word combining hetare (へタレ ?) — Japanese for useless — and Italia (イタリア ?). This is to make light of Italy's apparent cowardice during World War II.

Himaruya originally created Hetalia as an online webcomic, and so far two tankōbon have been published by Gentosha Comics, the first on March 28, 2008 and the second on December 10, 2008. The series was later adapted into drama CDs, and an anime series created by Studio Deen has also began streaming online.

The main historical events portrayed in this work occurs between World War I and World War II. The series often uses satire and comedy to address well-known and lesser-known historical facts.
Each episode of the anime is 5 minutes long (too short >.<), and the last minute or so is usually accompanied by "Chibitalia" which tells the story of the countries when they were younger, such as how Italy was bullied by the Holy Roman Empire and Austria.
Each country also has a name(America = Alfred, UK = Arthur, ect.), but it's much easier to refer to them as simply Italy, Germany, Japan, ect.
Countries/Characters:
Axis Powers
Northern Italy (Veneziano) (イタリア ,Italia?) Voiced by: Daisuke Namikawa (JP), Todd Haberkorn (US)
A bright and energetic nation that progressed from being the kin of The Roman Empire, widely recognized as the strongest nation in the world, to being clumsy and irresponsible. Personified as being carefree, cowardly and lackadaisical (noted by his collection of white flags he uses to surrender), he often depends on Germany to resolve issues. Nods to Italian culture include his artistry and recurrent portrayal of pasta and pizza. He has an older brother who represents southern Italy and who is commonly known as Italy Romano.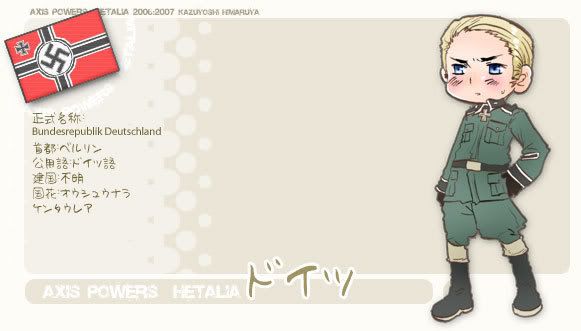 Germany (ドイツ ,Doitsu?) Voiced by: Hiroki Yasumoto (JP), Patrick Seitz (US)
Germany is a hard worker as a drill instructor, and a lover of rules. He sticks to them rigidly and trains his troops to do the same. Despite this, he has formed a close relationship with the carefree Northern Italy. He notes at one point that he has a crazy boss.
Japan (日本 ,Nihon?) Voiced by: Hiroki Takahashi (JP), Christopher Benkins (US)
Japan is hard-working, serious, skilled with his hands, and needs time to adjust to other people. He is inexperienced in the outside world, but does his best to learn all he can. Generally quiet, he sometimes seems to have the attitude of an old man.
Allied Forces
America (アメリカ ,Amerika?) Voiced by: Katsuyuki Konishi (JP), Eric Vale (US)
(You may recognize him from my avatar and signature) Raised by England and having fought for his independence, America became a country of pioneers. He is an energetic country who loves sticking his nose into other people's business. He sees everything in a positive light, is quick to take action, and he always has his own idea of doing things. He also has immense physical strength and courage, although he has a crippling fear of ghosts, particularly when they are vague blobs of light in pictures. Strangely, a grey named Tony appears in his house from time to time without him minding it at all. America is frequently seen clutching a hamburger and flashing a thumbs up. America also has a penchant for coming up with elaborate inventions that never go anywhere.
United Kingdom (イギリス ,Igirisu?) Voiced by: Noriaki Sugiyama (JP), Scott Freeman (US)
A nation that was once a pirate and tormented Spain, the United Kingdom (also known as U.K. or England in the comics) is a gentleman who is known for having terrible cooking skills (although America enjoys his food), a foul mouth, and huge eyebrows. He does not get along well with France or Russia, and can sometimes be cynical, particularly towards his somewhat estranged sibling America. Despite being mocked by the other nations for it, England is a strong believer of unicorns, faeries, and magic, going so far as to literally curse his enemies. (At one point, he tried to summon something evil, and ended up with Russia.) England cannot hold his liquor well and is a very unhappy sort of drunk. He once formed an alliance with Japan because he felt lonely. He is classified as a *tsundere character.
France (フランス ,Furansu?) Voiced by: Masaya Onosaka (JP), J. Michael Tatum (US)
France was once a large nation, but after Napoleon Bonaparte had died, he was no longer good in war and instead attracted tourists to his country with his wine. He has an intense rivalry with England, and loves to argue with him over trivial topics. France is infatuated with most of the nations, often touching them inappropriately. He has been known to streak naked and makes blatant sexual comments at every opportunity. France maintains a bit of facial hair because he feels it makes him look like a big brother. He is constantly pictured with a rose, whether he is carrying it or using it as a censor.
China (中国 ,Chūgoku?) Voiced by: Yuki Kaida (JP), Clarine Harp (US)
China is one of the oldest nations and is regarded as the eldest brother among the East Asian nations. He is extremely superstitious and religious. He has certain tastes for things and gets irritated if a food has a certain pattern of tastes. He is also a big fan of Hello Kitty and tends to end his sentences with the Japanese suffix -aru.
Russia (ロシア ,Roshia?) Voiced by: Yasuhiro Takato (JP), Jerry Jewel (US)
Despite having the cruelty of a child, Russia is the tallest of all the nations. He adores vodka and sunflowers. His primary hate is "General Winter", despite using the cold to his advantage in war. Russia has a kind and gentle face, but has mentally cracked from the strain of his bloody history. The other nations are mortified by him, particularly Lithuania, whom he loves to both physically and emotionally abuse. Occasionally, he stalks others while in a panda costume. Russia promises that eventually "everyone will become one with Russia". He also frequently says "KolKolKolKol" to nations he is threatening. Russia is almost always seen carrying a section of pipe. He is classified as a *yandere character.
*Tsundere = A person with a conceited, spiky, combative personality that suddenly becomes modest and loving when triggered by some sort of cause (such as being alone with someone). It can also describe a personality that is good-willed, but its attitude and actions often contradict its nature.
*Yandere = A personality that is initially extremely loving and gentle, then at one point becomes deranged or psychotic, often brutally so.
DISCUSS.