Samurai Deeper Kyo
(サムライ ディーパー キョウ Samurai Dīpā Kyō?) Directed by Junji Nishimura, original run from July 2, 2002 – December 23, 2002.
(Source - Wiki)
List of Characters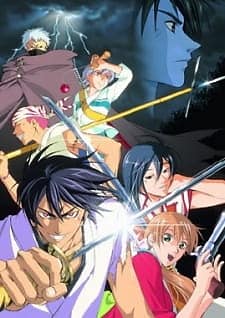 Plot Summary:
In the year 1600, during the battle of Sekigahara, warriors Kyoshiro Mibu and "Demon Eyes" Kyo - the legendary slayer of a thousand men - engaged in fierce combat. Both men disappeared when a meteor crashed in the battlegrounds. Four years later, Kyoshiro is spotted on a rural highway, acting as a traveling medicine salesman. He is captured by the female bounty hunter Yuya Shiina when she discovers that deep inside him is the dormant personality of "Demon Eyes" Kyo himself.
Genres:
action, adventure, comedy, supernatural
Themes:
historical, samurai
Episodes:
26
Age Rating:
Older Teen
(Source - ANN)
----------------------------
I had just finished the series. And I say, I liked the anime a lot. However I did not get a hold of the manga to read (that was in English anyway) but I want to somehow. Until then, there is the anime.
Has anyone watched/read the series? Did you like it?