Mononoke
(モノノ怪?) Original run July 12, 2007 – September 27, 2007. Directed by Ninagawa Yaeko.
(Source - Wiki)
Mononoke (not the princess version) is a 12 episode spinoff of the recent anime "Ayakashi", a series based on classic Japanese horror.
Mononoke itself focuses on the character of the enigmatic "Medicine Seller" (Who is apparently so awesome, he needs no name) who travels from place to place selling his wares and finding Mononoke (Malevolent spirits entwined with the tragedies of humans) to exorcise. In order to purify the sprit with his sword, however, he must learn the Truth (Makoto), Form (Katachi), and Regret (Kotowari) that brought the spirit into being.
Mononoke is a series of short stories told with a brilliantly innovative narrative style that resembles a
Noh
play, and an art style that borrows heavily from traditional Japanese illustration and Art Nouvaeu. The style may take some getting used to, but the stories are also strong. A knowledge of Japanese cultural and artistic traditions will probably fortify the experience, but there are obviously other aspects that draw viewers to the series...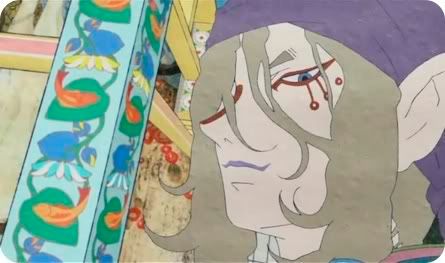 Ladies
...
Genres:
mystery, supernatural
Themes:
demons
Episodes:
12
Age Rating:
Older Teen
(Source - ANN)