Toward the Terra
(地球へ… Terra e...?) adapted into an animated TV series in 2007, co-animated by Minamimachi Bugyōsho and Tokyo Kids, and produced by Aniplex, SKY Perfect Well Think and Mainichi Broadcasting System. It was directed by Osamu Yamazaki, written by Satoru Nishizono and featured character and conceptual designs by Nobuteru Yuki (Vision of Escaflowne) and Yutaka Izubuchi (RahXephon) respectively.
(Source - Wiki)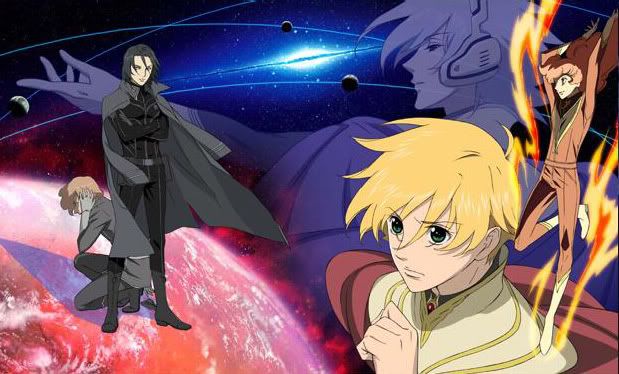 Plot Summary:
In the far future, humanity has left behind an environmentally destroyed Terra and began colonization in order to reproduce their home. Humanity, now ruled by a super computer that controls the birth of children, sees the emergence of a new race called the "Mu". The Mu, now hidden from the rest of humanity, have one dream, to return home, to Terra...
Genres:
drama, psychological, science fiction
Themes:
bishounen, esp powers, space, superpowers
Episodes:
24
Age Rating:
Teen
(Source - ANN)
---------------
Terra he (Toward the Terra), the new April anime this year... the anime version is certainly better than manga (1977). Reason being...
- Better character development. Manga's characters aren't developed as well because manga version was meant to be short (~900 pages).
- Music and action and great voice acting
- New stories (I wouldn't call them fillers since they are plot-related and well written)
- I especially like episode 5-9, where they give more "personality" to Shiroe than manga version did.
- Episode 15-17 as well, character development and extra story for Soldier Blue.
At first I found the anime weird but watched it anyway since it will only have 24 episodes... For ep 1-4, I thought the pace was too slow, but as I watch the story progresses, i see why 1-4 were necessary to be this long and slow
Great character development added to the story indeed. I think I downloaded the manga and read it after I watched episode 8... and it's very different, the manga. When you read the manga, it makes you feel like... "Uh? This is it? o_O" Yeah. The manga's pace is really fast and abrupt, and makes you wonder "uhhh, that shouldn't work out like this"... Manga gives a feeling like that because it is rushed. Very rushed. Anime, on the other hand, took its time to develop characters and explain all the tiny details, so that things actually makes more sense
Anyway, I suggest that you watch this anime after it's done
Episode 17 just aired, and it has 24 episodes in total... but "unfortunately", the anime has been licensed by Bandai US. already
, so fansubbing of it has been stopped >.<;;
however, Makoto has continued and completed the rest of the episodes.
----
Edit: The links for raw manga I posted have expired, but I'll reupload if anyone is interested...