First time FMA manga readers, please post your thoughts and discussions on chapter 71 here.
For info on the "Reading Reference", go to
page 5
.
===================
Spoiler Party starts on page 2!!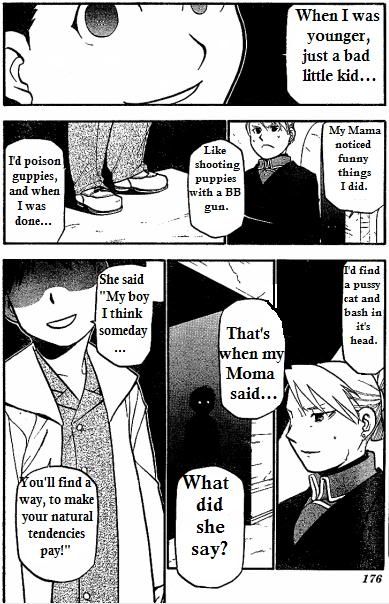 You'll be a homunculus!
Our chapter opens this month with Winry realizing she's not in Kansas (not now, not ever), and being escourted by a man her parents would have trusted with their lives, breeding yet more fodder for bad fan fiction (WinKim?). Polishing up Ed's toys, Winry hangs around just long enough to remind us what the brothers are waiting for, and provide renewed romantic interest for Bucannear (BucWin!?), who himself hangs around only long enough to remind the General not to inturpet him while he's playing Cave Story. Searching through Sloth's tunnel, they find the only remaing survivors of a Zork lan party. Meanwhile, back at Central, Riza comes to the terrifying conclusion that Pride is secretly a cast member of Elfen Lied, and is forced to confront him (RizaxPride!?!?). And what will Kimbley's shopping list bode for our heroes up at Briggs?
We'll just have to wait and find out.
This summary brought to you by the Society for the Preventions of Bad Pairings.
<Last edited by Michiyo- on Oct. 9, 2011>