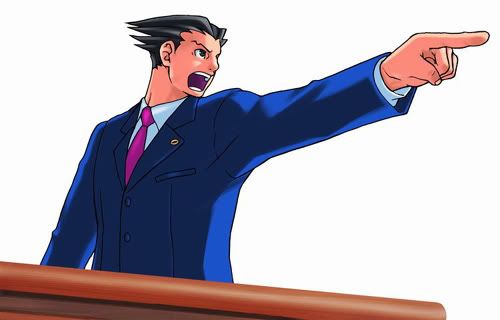 In Phoenix Wright: Ace Attorney(Gyakuten Saiban Yomigaeru Gyakuten (逆転裁判 蘇る逆転), the player takes on the role of Phoenix Wright, who must do various tasks, some being standard operation for a defense attorney and some having nothing to do with the profession.
The game has a total of 5 trials. In the game's setting, once a suspect is arrested, a trial lasting no more than 3 days is held to determine their innocence or guilt. A guilty verdict will cause the suspect to be tried in a higher court, which means game over.
Except for the first case, the game cycles between two phases: Investigation, and Courtroom Sessions. The new episode takes advantage of the DS's features at several points, such as spraying luminol with the touch screen to locate blood stains at crime scenes, dusting for fingerprints, or examining a three-dimensional view of evidence.
Wikipedia Article
Soo, anyone ever heard or played the game? P:
I really find it difficult to look for the evidence, but once I'm in the court it's really easy. XD. The second story took me almost the whole day because I was having a really hard time finding things...
I haven't beaten the game yet, I got it on Tuesday~.
But I really enjoy the game
.