First time FMA manga readers, please post your thoughts and discussions on chapter 70 here.
For info on the "Reading Reference", go to
page 12
.
========================
Spoiler Party starts on page 2!!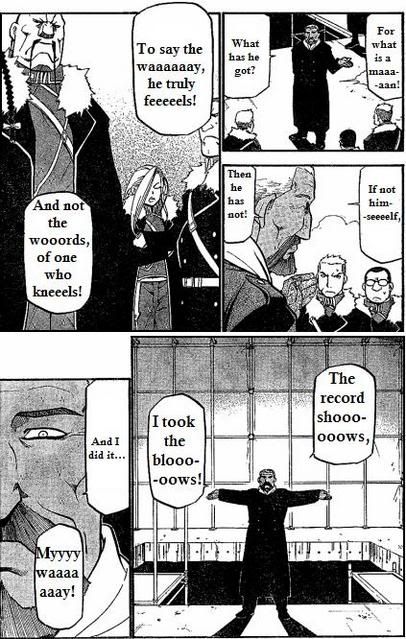 Silly Raven. You won't succeed on Broadway if you haven't any Ishbalans.
Wow. A chapter starter already, and it's only the first of the Month. I must really love you guys. Or at least moderately tolerate you. Moderate tolerance makes the world go round.
Taking a tip from Lavi, Raven decides to keep tabs on the Homunculi's valuable human resources. Upstairs, the Briggs military staff prepare to write their names in concrete, as Sloth is wheeled out in a large shopping cart. Raven speaks with Sloth ("Blah blah blah PRIDE blah blah") who promptly realizes his lunchbreak is over, and gets back to work. The corrupt general glosses it over with his acamedy speech, when Olivia decides to cut in and show him what she really thinks of his public communcation skills. As Miles slowly grows tired of Kimbley's take on racial issues, Scar and Yoki return to base camp after shooting 189 pounds of meat, but only being able to carry back 47, and Roy annoys shippers everywhere by talking with two women who are decidedly not Riza Hawkeye. Realizing Raven has disappeared ("He's
in
the basement") Kimbley chooses to visit the Elric brothers to show off his new Winry voodoo doll, and then gives a look to remind people everywhere why not to leave their children alone with him.
<Last edited by Michiyo- on Oct. 2, 2011>