First time FMA manga readers, please post your thoughts and discussions on chapter 69 here.
For info on the "Reading Reference", go to
page 26
.
=================
Spoiler Party starts on page 2!!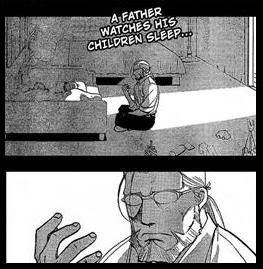 "...
American Gladiators
should be on right about now."
Last month on
Desperate Alchemists
, time for a clip show! Hohenheim questions his long-term health plan, and things do not improve as he blinks during the family photo-op. reaffirming his potential for a career in carpentry, Hohenheim realizes all too quickly what it took everyone else 67 chapters to figure out, and takes leave of Trisha for an extended camping trip.
Fast forwarding to the present, it is dark in your base, and your doods are likely to be eaten by a Grue. As Olivia fishes for Raven, he tries to convince her that all the cool kids are doing it. Informed of a disturbance in the force, the generals run off to see what happen, Fallman demonstrates the proper way to package your shrimp, and Ed meets the infamous Micheal Jackson. The situation at hand (lol) not improving, will Olivia find a way to deal with Pierrot le Raven? Why does Bradley keep his secret scotch bar so close to the phone? Will the fans ever realized that Winry isn't Lust?
We'll just have to find out.
<Last edited by Michiyo- on Sept. 25, 2011>